Thessalon invites you to come and discover Thessalon and surrounding communities; a small town with a big sense of community, beautiful beaches, small town shops and outdoor adventures all seasons of the year.  The Town of Thessalon is located off of Highway 17 only 80 km east of Sault Ste Marie.  The scenic Thessalon River runs through the Town leading to the river mouth into Lake Huron; making Thessalon a destination for water sports. Paddle, kayak or fish your way up the river under the iconic Thessalon Red Bridge that was originally built in the 1880s. Thessalon is a perfect spot to hike, cycle and bird watch. In the winter you can enjoy snowshoeing and cross-country skiing on town operated trail systems. Other activities including curling, hockey, ice skating, ice fishing and snowmachining that will have you embracing the winter months in Thessalon.
The Municipality of the Town of Thessalon operates a full-service Marina, a fitness center, a full- service campground, an arena, sandy beaches, pickleball courts, all while providing community activities for all ages. Thessalon encourages its residents, visitors and tourists to shop, love and explore local. Visit our Community Directory: https://thessalon.ca/businesses/ to find what you are looking for.
Thessalon is a town in the Canadian province of Ontario, located at the junction of Highway 17 and Highway 129 on the north shore of Lake Huron. It is surrounded by, but not part of, the Municipality of Huron Shores, and is part of Algoma District.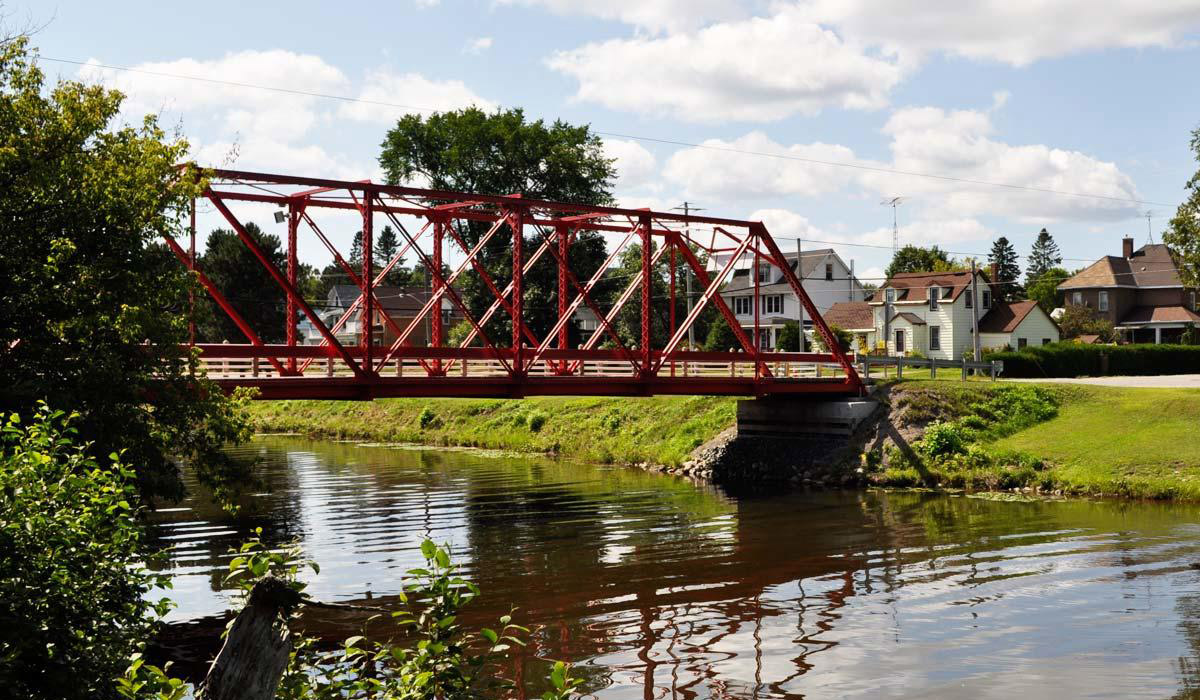 The Red Bridge
The Red Bridge spans across the Thessalon River, connecting the east side of town to the and west. The bridge was originally built of wood in the late 1880s. The bridge has since been updated and is now made of steel and open to pedestrian, cyclists, and traffic.
Lakeside Beach
Located across the road from Lakeside Campround. With a large sandy beach with beautiful access to Lake Huron to enjoy a swim or  paddle.
The beach has a newly constructed change room and bathroom.
Thank you to Algoma Manor who donated an accessible mat to allow all users to access the lake.
Peace Park
Located on Water St. Peace park has sandy beaches, play ground equipment, a change room and washroom. Launch your canoe, kayak or paddle board at the mouth of the Thessalon River to paddle up the river through the center of town.
Thessalon's first mural was completed at Peace Park in June 2023 by local aritst Brittany MacLean of Brittany Joyce Art.
Come see the mural in person, enjoy the park and #discoverthessalon.