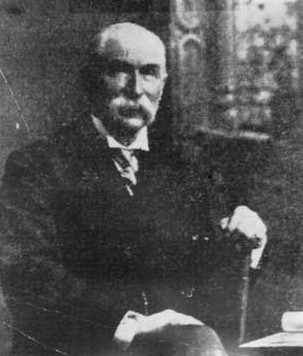 Nathaniel Dyment (Left) is often credited as being the founding father of Thessalon. He came to Canada in 1832 after a six-week voyage across the Atlantic from Devonshire, England. The Dyments then set out on foot from Toronto 44 miles to their prospective home in the forest near Lynden. When he was a young man, he opened a store near Lynden, whetting his appetite for business. Legend has it that his first logging transaction was the purchase of a single white pine tree with a dollar he had earned by chopping two chords of wood.
Dyment obtained a license to remove timber from the Thessalon Indian Reservation in 1871. The following year, he arrived at the mouth of the Thessalon River with machinery to build the area's first major steam-powered sawmill. This mill launched the lumber industry and growth in this region in the coming years.
In 1884, there were 200 permanent residents in Thessalon, housed in a haphazard cluster of dwellings near the mill at the south end, which is where Main St. is now located. The town consisted of 18 houses, 8 shacks, 1 store, 1 hotel, 2 churches, and a 1 room school.
In the subsequent years from 1884 to 1903 the population had grown from a small lumbering village to a much larger town of 1200 residents, thanks largely to the enhancement of communications, public services, spur lines, and entrepreneurs like J.B. Morgan - Founder of Midway Lumber (right).
Over the years, the town's population has stabilized to almost 1,400 people. Many links to the past remain. Families have lived in the area for generations. And, the town is still a popular destination for hunting and fishing while Midway Lumber Mill serves as one of its major employers.